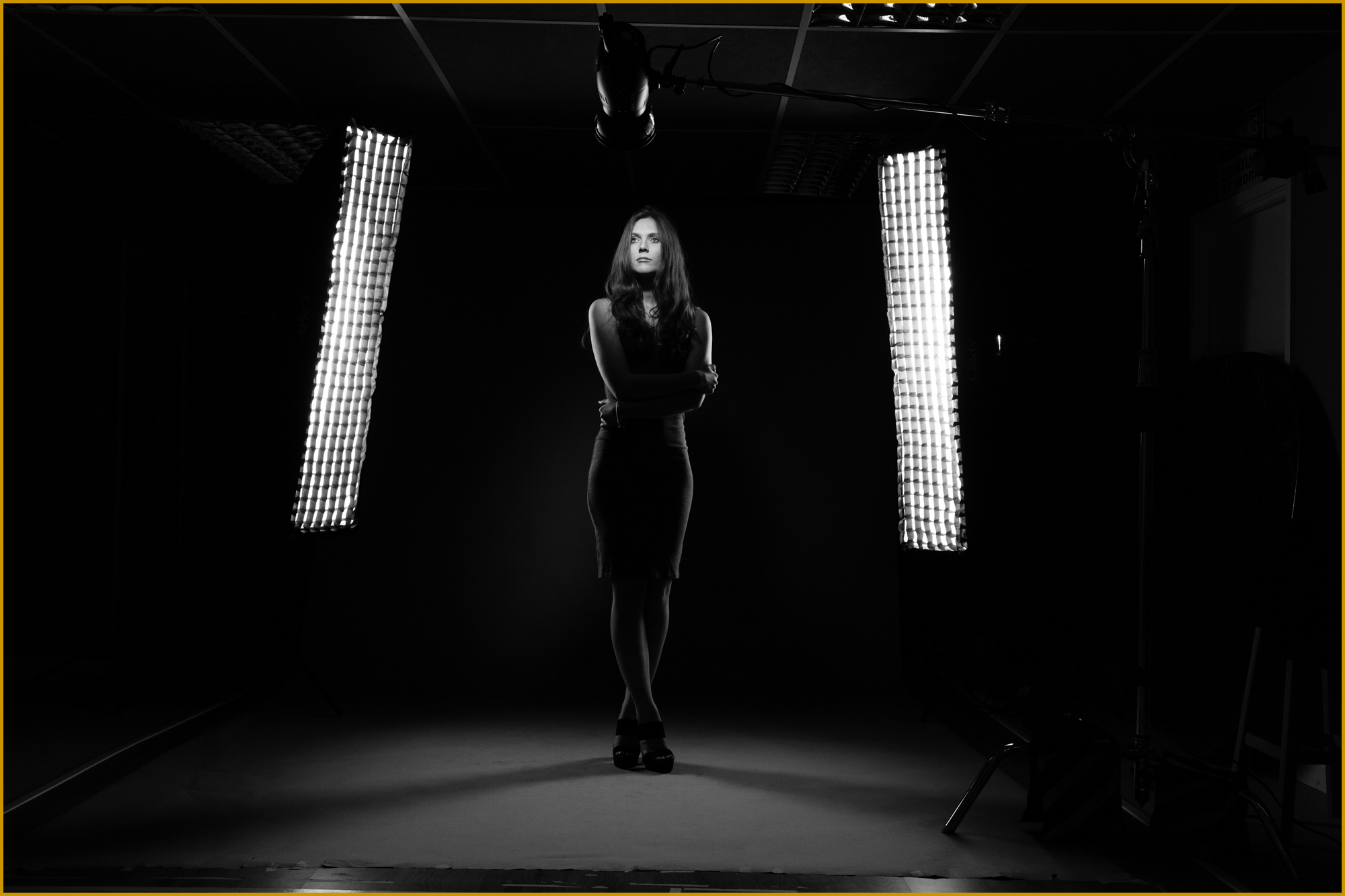 [ Basic Hire / Assisted Hire ] - Availability upon appointment.

Basic Hire £25/hr

This includes use of lights and modifiers as well as white & grey paper rolls. I am on hand to answer any questions but generally I will let you get on with your shoot.

Assisted Hire £45/hr

This hire includes as basic hire plus myself as your assistant / lighting tech /digital tech for your shoot. I can be used to hold lights/reflector, handle your digital workflow whilst tethering, running BTS camera. Basically I am your assistant for the shoot.
RJ Bradbury Photography is a well equipped Stockport based studio that is available for hire for a range of uses.
Photography.

Video ( Where audio is not required)

Commercial.
Located close to Stockport town centre the studio has a range of transport links as well as local amenities that include Stockports new Red Rock centre, Woodbank & Vernon Parks as well as a range of local hotels and eateries if you are in town for a stay.

Studio owner RJ Bradbury is an experienced photographer who can also be hired to assist in your shoot/job if required.
Studio Location & Contact Details
RJ Bradbury Photography
Unit 1, Ground Floor
Woodbank works
Turncroft Lane
Stockport
SK1 4AR

Mobile: 07763 418 761 Email: rick@rjbradbury.com Google Maps Link: https://goo.gl/maps/uUvvUjwiAVF2


Facilities
Changing room with clothes rack.

Iron & Board

Clothes Steamer.

Kitchenette - Kettle, Toaster, Plates, Bowls, Tea, Coffee ( Just remind me to buy milk please )

Microwave

Fridge/Freezer - Keep your lunch .. or beer cold. ( I like Newcastle Brown thank you)

Toilet

Separate Office Room

Tables & Chairs

Desk (One in the main studio area and one in the Office)

Laptop (Windows 10) with adobe cc suite installed.

27" 1080p BenQ Monitor + Calibrator

USB Hub for connecting your own drives. *the studio has a 4TB client drive that can be used to shoot tethered to. Files will be held for 1 week only.
Equipment + Camera/Lens Rental
The studio is fully equipped with a range of lighting and modification from Pixapro as well as grip, stand and backgrounds. Any additional backgrounds (paper colours) required can be arranged with enough notice and at your expense.

The lights and triggers will work with a range of cameras including ( Canon, Nikon, Fuji, Sony, Olympus) however I have not tested the triggers with all camera makes and models, it is up to the person hiring the studio/shooting to confirm if the studios triggers will work. Not all functions will be available on the lights/triggers such as (High Speed Sync/FP sync) this is due to the triggers being Canon based, however the Phottix Stratos II triggers have worked on all cameras that have come in to the studio so far.

Please feel free to bring your own triggers if you wish.

(click image for larger view)
The Pixapro Storm/Hybrid/Li-ION lights are capable of fast (short) flash duration's which work well for freezing motion and they are also capable of High Speed Sync. * Correct Godox or Pixapro triggers required for your camera system which are to be provided by you. The trigger at the studio are Canon based but they will work and provide power control for other camera brands.
If you have any questions regarding the equipment in the studio please contact me here.
Hire Prices
The image below (click for larger view) shows both the studio hire & camera/lens hire prices. Please note that the 5D Mark II uses CF (Compact Flash) cards and I recommend that you bring your own.
Can I bring my own lights/modifiers? - Yup if you wish but I will need to check any packs if you are bringing pack & head lighting systems in.

Can I shoot both stills and video? - Absolutely but please note other companies are in the building in office hours so noise may be an issue.

When is the studio available? - This varies. My first priority is my own client work so it's best to check with me first and give enough notice.

Can you help me with my shoot? - I can. I provided an assisted hire option where I will work as your assistant during your hire.

Where can we get food from? - You can bring your own food and store it in the studios fridge or you can grab food from one of many local shops or eateries nearby.

Local Shops , Eateries, Places To Stay


What happens if I break something? - Whilst I understand accidents happen any broken/damage equipment will be charged at cost for repair/replacement.

I have an older Sony with the Minolta hot shoe can I still use your lights? - Yes you can but you will need an adaptor (not provided) to convert your cameras hot shoe to the industry standard one.

Can I rent a camera/lens? - Yup, please see the equipment list for information.

Can I Shoot Tethered? - Yes. The studio has a Tethertools USB 2 & USB3 Cable +Active Extension Cable. If your camera has a USB C port please bring your own cable.
If you have any other questions please contact me any time and I will be happy to help.

Hire Cancellation

If you cancel your hire the following fees will apply. (no exceptions)

1 week notice - No Charge
2 Days notice - 25% rental fee.
24 Hours or less notice - FULL rental fee.

Further Information / Rules
RJ Bradbury & the studio reserve the right to refuse a hire. Any acts of aggression or unacceptable behaviour towards the studio owner,assistants, equipment and other building residents will not be tolerated, in the event of such you will be escorted off site and the payment in full for the hire will be billed plus any damage charges (if applicable).

Ok now the heavy stuff is over with. Rest assured that I will do everything I can to make your hire an enjoyable one for you and your team and I look forward to meeting/working with you in the future.

RJ Bradbury
RJ Bradbury Photography is proud to be part of the Pixapro - Try B4 You Buy scheme.